Welcome to the Rosebery Centre Website
We are very pleased that we are open again, albeit with reduced numbers. For further information about our services at the moment, please give Anne a call at 01506 870 651.
The Rosebery Centre provides day care facilities for those with dementia. The Centre provides social interaction within a stimulating and safe environment. The centre was started in 1985. It has a wide catchment area, including Livingston, The Calders, Broxburn, Uphall, Pumpherston.
People living with dementia are referred for day care and other forms of support. The following make referrals: CPNs; social work teams in Livingston, Bathgate and Broxburn; local primary health care teams; voluntary organisations; and West Park Day Hospital.
Rosebery Centre COMPANION CAFE
Opening 29th October 2021
A monthly meeting place for carers of people with dementia.
3rd Friday of every month Between 11 am and 1 pm
The Companion Café is a monthly meeting place for carers of people with dementia and is run by the Rosebery Centre, a specialist dementia day care centre. Come along and meet other carers and family members. Enjoy some soup, a sandwich, and a cuppa while sharing your experiences.
Click the poster to see more info …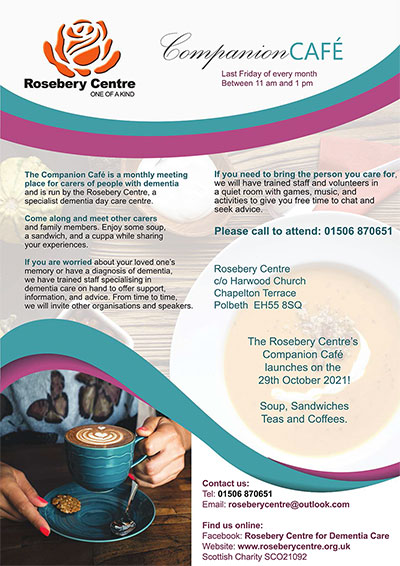 * NEW * BEFRIENDING SERVICE
The Rosebery Befriending Service is a non-profit organisation offering face-to-face companionship and support to older adults living in Livingston and the surrounding areas. Learn more about the service and how you can access the service or volunteer to be a befriender. See HERE for further information.
Volunteer Opportunities
The Rosebery Centre is currently recruiting Befrienders , as well as Management Committee members (as a regular member or as vice-chair). As well, we need more Day Centre Volunteers to help us to provide a stimulating environment for the people who attend the sessions. Full training is provided and more information is available at HERE and HERE.
The centre has received numerous awards and is widely recognised as a centre of excellence.