Dementia Friendly Bathgate
Helping people with dementia to stay part of the community, not apart from it.
The following information is provided courtesy of Alzheimer Scotland, Please visit their website for the latest information.
What is dementia?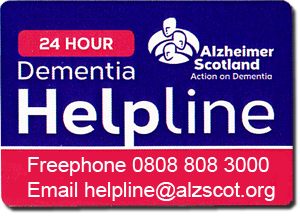 Dementia is not a natural part of ageing; it is a progressive condition of the brain caused by diseases such as Alzheimer's disease, vascular dementia, Lewy Body dementia and fronto-temporal dementia.
Dementia affects everyone differently but common symptoms include memory loss, confusion and problems with communication and reasoning. It can also affect people's behaviour and personality.
Symptoms will get worse over time and people will eventually need help with basic activities like eating, dressing and personal care.
In spite of these difficulties, people with dementia can live well with their illness, with care, support and understanding.
Who is affected?
In West Lothian, around 2,300 people have dementia; 100 or so under the age of 65. This figure will increase as our population continues to age. Although dementia isn't an inevitable part of growing older, it is estimated that 1 in 3 of us over 65 will develop dementia.
Living well in the community with dementia.
Over 60% of people with dementia live in their own homes throughout their illness. They want to carry on doing the kinds of everyday things they have always done:
spending their own money, how they want to
travelling & eating out going to the shops & running errands keeping up hobbies & interests visiting places of worship.
In short, living as normal a life as possible, for as long as possible.
Why do we need to know about dementia?
People with dementia often go out into the community less and less as it becomes harder to do so, even to familiar places.
Bad experiences can cause people to lose confidence and withdraw from community life, making them isolated and more dependent on family members and friends for things like shopping – people who may not choose to do business in Bathgate town centre.
If people have a good experience they are more likely to continue doing business with you (and so are their families).
Your staff and colleagues may be unsure how best to serve, talk to or involve people with dementia. Finding out a bit more about how dementia affects people, and recognising when and how to offer support, can improve the experience for everyone.
Many of your customers or members may already be living with dementia and many more will do so in the future.
You can support them to continue to be your valued customers or active members of your group or organisation by doing some simple, inexpensive things. We can help you do that.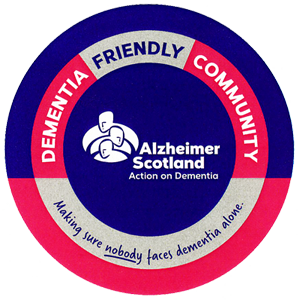 Bathgate is working to become dementia friendly.
We want Bathgate town centre to be celebrated in Scotland for its standard of customer care and for the way it supports people with dementia to live well in their local community. We need the whole town to come together to make a difference for people with dementia, their families and carers. Why not find out more and join us in making Bathgate West Lothian's first dementia friendly town centre?
How can my business/ organisation/group become more dementia friendly?
1. Get in touch with our Dementia Friendly Development Worker for advice, suggestions and support
2. Arrange awareness training, practical advice and information about dementia for your staff or members.
3. Develop an action plan (Alzheimer Scotland can help with this).
4. Distribute our "Tips for Shops and Businesses" to all staff to increase their understanding.
5. Display information about dementia and support services available in your premises, such as our Dementia Helpline cards and posters.
6 Agree to work with Alzheimer Scotland once or twice a year to help promote this work and get others involved.
7. Treat customers who may be living with dementia with patience, dignity and respect.
8 Think of small changes or adjustments you can make to your business . organisation or group to make it more accessible and welcoming for people living with dementia. Small changes can make a big difference.
Dementia Friendly Bathgate will be a community where:
» people with dementia and their partners, families and carers are understood, respected and supported
» people with dementia can find their way around and feel safe
» people with dementia have equal access to the local facilities that they are used to, even if they may need a little support to do so
» people from all walks of life come together to learn a bit about dementia and make some simple and practical changes that can
make a huge difference to people living with dementia.
How to get involved.
Contact
Cherie Raby, Alzheimer Scotland Dementia Friendly Development Worker Tel: 01506 533115 E-mail­: